Grow the business you want, experience the joy you deserve.
Dear soul,
You are in business- because you choose to be and perhaps because you have to be. Meaning you were longing to expand and your business is the beautiful vehicle that demanded your expansion. Well done for saying yes to this path.
I'm writing to you for several reasons- and what's funny to me is that this is not a conventional sales page with pain points and features and benefits- nope, it's about love.
I love you enough not to go digging around in your wounds in order to convince you to buy my stuff. So while pain points and features and benefits might sway you, I'd so much rather talk with you about what matters.
And we all know that what matters is not actually your online conversion or your list size or your ability to build a 6 figure business. Especially if it's at the expense of your wellbeing, your relationships, or your engagement in the journey that is your life. Because life happens whether you are optimizing your Facebook business page or not.
Nope. What really matters is this: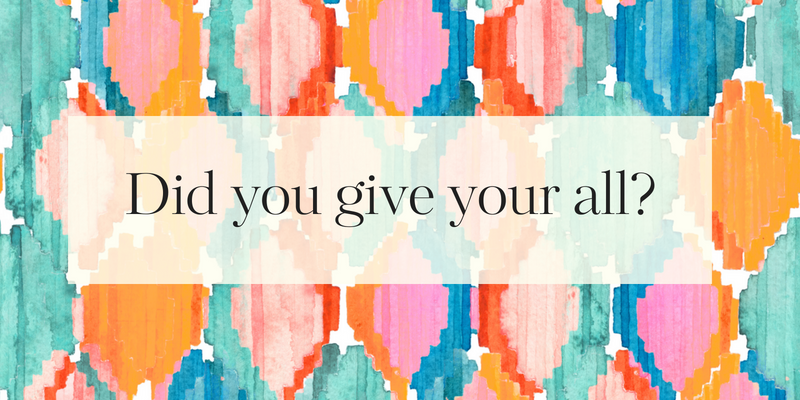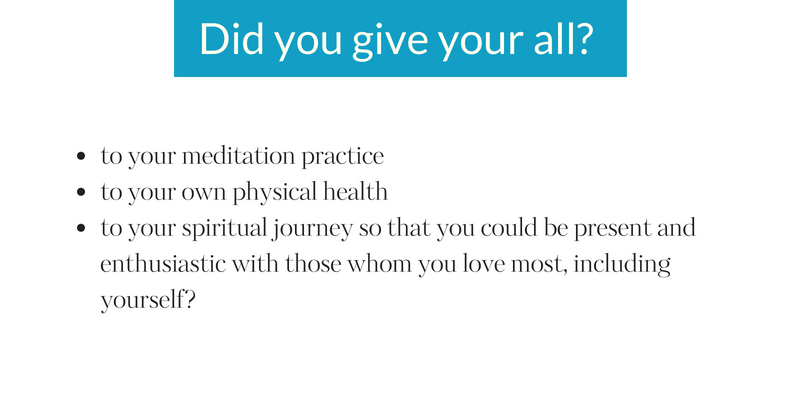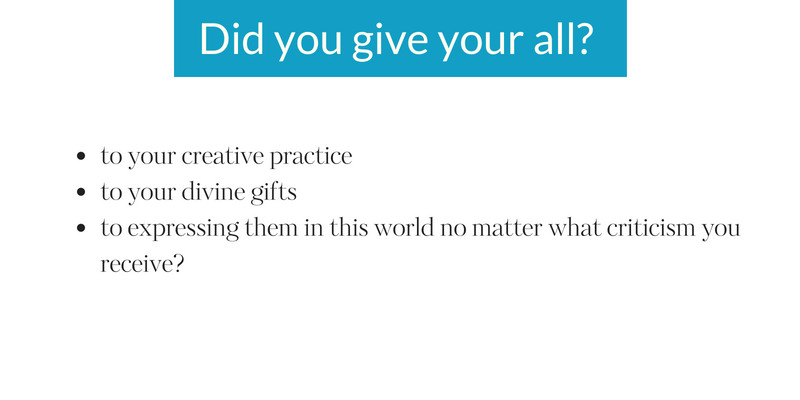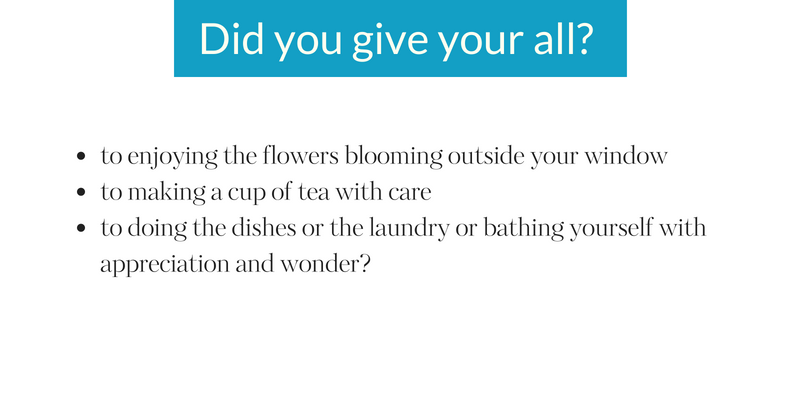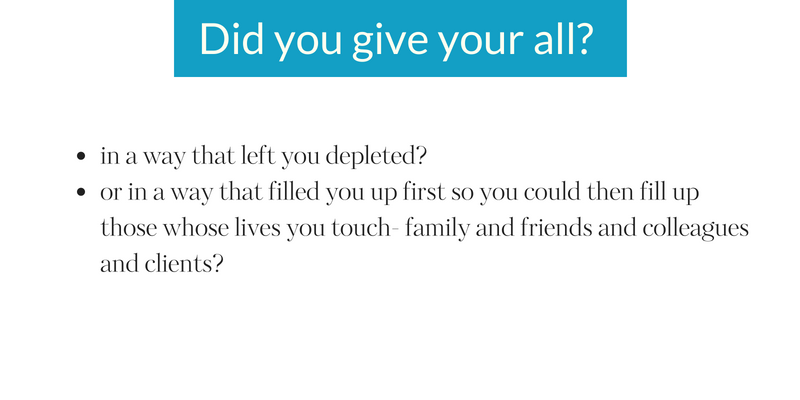 I've seen too many entrepreneurs (and I include myself in this group) who pay lip service to what is important- travel, family, friends, love, health, art- who then spend all their time chasing the almighty dollar, forgetting that while money is important, so too is joy.
My hypothesis- that now has actual data to support it- is this: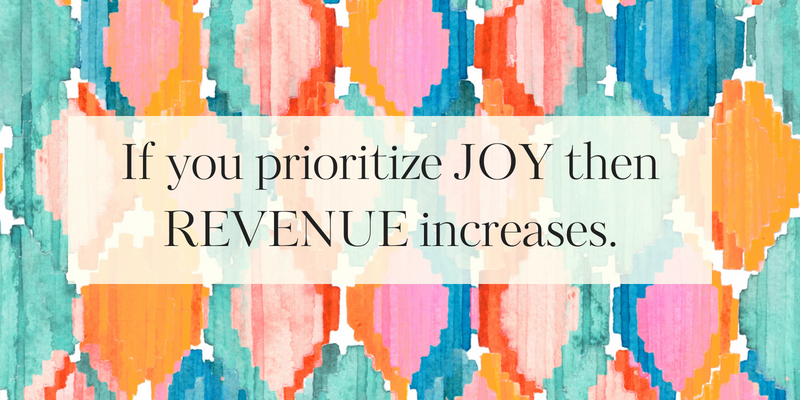 Scandalous? A bit. Sensational? Yes. Doable- for you? Absolutely.
Here's my take on the "imagine..." sales page trope:
Imagine that you get to do activities every day that give you joy. Imagine that you drop the clients, marketing, and chores that leave you depleted. Now imagine your bank account GROWS as you do this.
This is possible for you and for me. And it doesn't have to be accompanied by a heaping helping of hustle.
So here's my salesiest sell: this is a warm and cautionary invitation to join me in the Joy|Money Matrix™ family.
Warm because I and what I create are suffused with love for you and your journey.
And this structure, the Joy|Money Matrix™, is a lovely way to take a gimlet eyed approach to what's working in your life and business and what just isn't. It doesn't judge you or tell you you're wrong.
It's simply a visual (a brightly colored and funtimes visual) that allows you to see where you're in alignment and where things have gotten a little out of hand.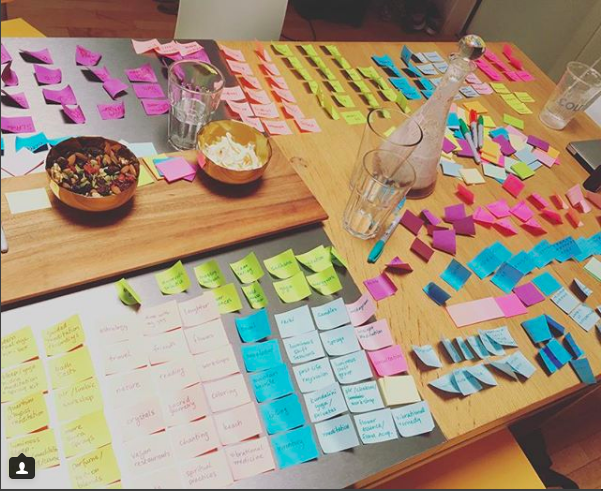 Most likely it puts out in front of you those things you've had inklings about all along. The whispers of, "You can do it differently. You are here for more."
Those whispers find visual expression in a model like the Joy|Money Matrix™ in a way that feels lovely and joyful in the process.
But it's a warm invitation with a bit of a warning too.
You see the JMM might (will) show you things you do not desire to see. Things you'd prefer to procrastinate on or ignore or distract yourself with. It's prescient. It's stark. It gives your business and life a voice to tell you exactly what they want with regards to your joy and your money.
The Joy|Money Matrix™ is most certainly not for the faint of heart.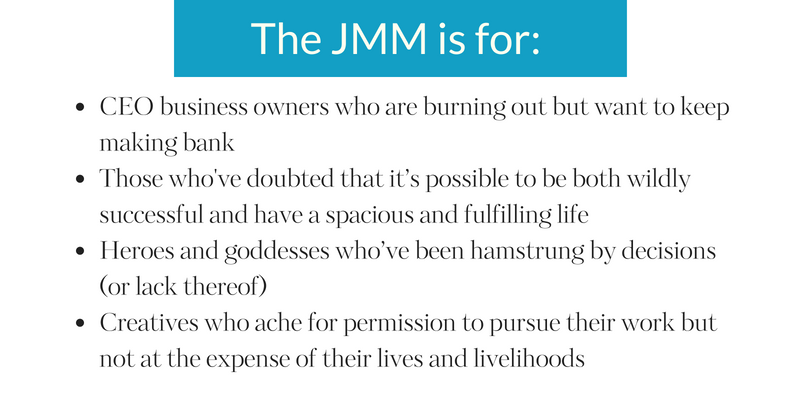 You are here for more. And you are more than ready.
So, what's it all about? 
The crux of the Joy|Money Matrix™ is the aforementioned prioritization of joy. First. I call it the Joy Imperative and it is the hardest concept to get my hard head to accept. But it doesn't have to be that way. (Lolz, I just had to do that.)
I'm hoping that the Joy|Money Matrix™ will save others (you perhaps?) the thousands of days I spent angsting behind my computer or attending shitty networking events or otherwise dispersing my powerful and valuable energy all over where it didn't need to be while I tried in vain to build my business the conventional way, simultaneously ignoring the inescapable pull of my soul to create. To create constantly. To create differently. And to engage with life instead of skimming across its surface because I was so distracted by the vagaries of my business.
For years of Mondays as others went to offices, I powered up my computer and worked because I felt guilty not working on Monday. I had attained that mythical freedom- location independence! And there I was squandering that gift in an overpriced apartment in Richmond, VA, working the typical Mon-Fri schedule because that's what I thought I had to do out of my own guilt and self-imposed adherence to someone else's idea of success.
Friends, the Joy|Money Matrix™ is a paradigm shift and permission slip. Guess what: you get to do this (build your life first and then your business) with joy as your north star!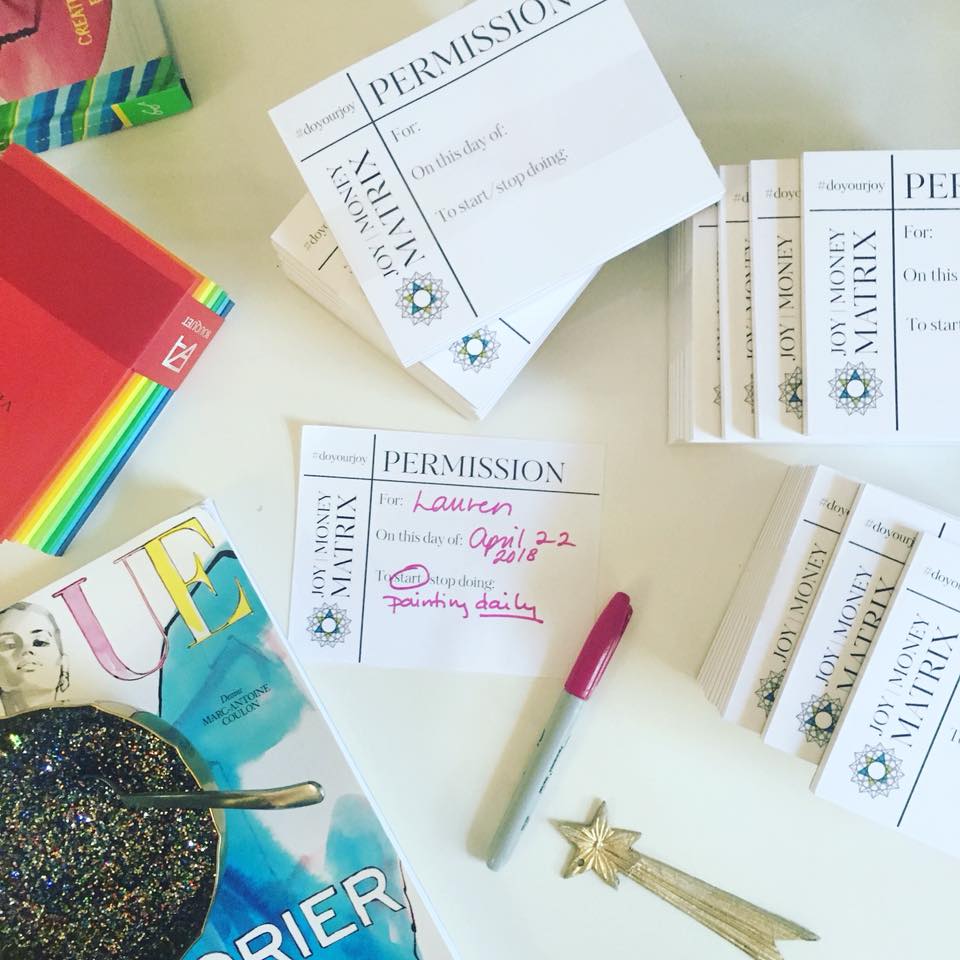 This is huge. How many business owners wake up and say, "How can I experience joy today?" or "What's my Return on Emotion (ROE) been this year?"
We have to plan for joy the same way we plan for revenue. It is essential and it's the reason the JMM tracks both.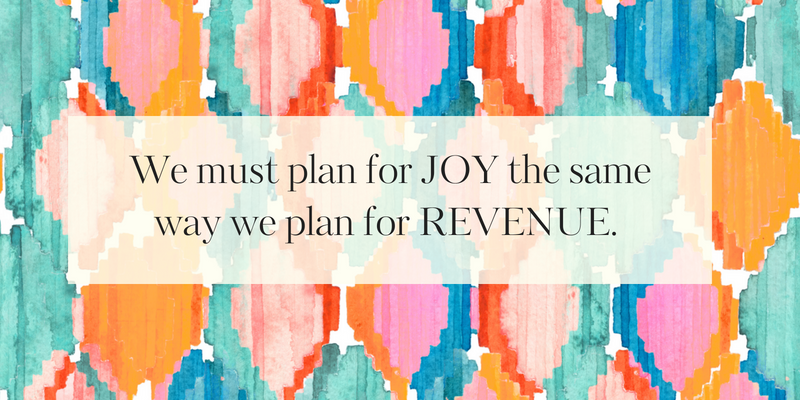 But going back to my guilty Monday self, all I needed at the time was a permission slip. And the Joy|Money Matrix™ is that too- an explicit approval that it's ok to prioritize the things that truly matter.
Looking back on this year, it won't really matter if you made an extra $10,000 or even $100,000. But if you get to the end of this year and can boast fresh and lively relationships, a draft of your book, a body of work that makes you proud and makes you money- you will have achieved success on your own terms.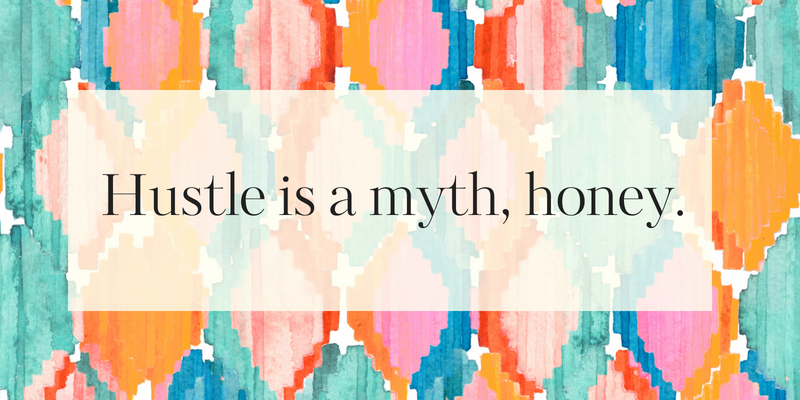 And if you need a tool to help remind you of that, I offer you the Joy|Money Matrix™.
A couple nuts and bolts:
The JMM is a mental model- an XY axis with both JOY and REVENUE represented. You place all the things in your life/biz on the chart with regards to both joy and money. Then you step back and note your handiwork.
The JMM is reusable. Some people use it daily while others check in with it on a quarterly basis.
It's incredibly simple (to complete) and full of depth (when you take a look at the implications).
While I want everyone in the world to benefit from this tool, I've found it's best when used by business owners who are fairly established and who are sick of following other people's ideas of how to do business. Read: not for newbies and not for "just tell me what to do!" types.
Ok, let's take a deep breath and dive in.
 DIY JMM RETREAT
Best for: those who want the JMM from the comfort of their own home/office. This gives you the comprehensive JMM experience that can quite literally change your life and your business.
As soon as you click purchase, you have instant access to the virtual retreat portal. Your box will ship out within the week and once you have your materials you get to create your own JMM retreat at your own pace. 
Some logistics: Some participants complete the JMM in an afternoon. Others do it over the course of a few days. Pacing is up to you. Your box takes between 3 and 7 days to land depending on where you live in the world. We ship out once per week o Monday. Your box contains all the tools you need for several JMMs! 
JMM Participation Options
DIY JMM
$495
Lifetime access to JMM portal

JMM Kit and materials

 Free shipping worldwide 
25% discount on all Lauren Fritsch virtual events 
Payment options available

DIY JMM + Consult
$795
Lifetime access to JMM portal
JMM Kit and materials

60 minute consult with JMM founder Lauren
 Free shipping worldwide 
25% discount on all Lauren's virtual events
Payment options available
Interested but want to learn more? Book a Joy|Money Alignment call to determine your ROI and ROE. 
The JMM is awesome...BUT you don't have to take my word for it. 
"I use the JMM all the time now ... every project is planned using it. Every marketing decision is gauged by where it falls on my JMM. I use sections of it with my clients to help them make decisions in their business model and their marketing ... in everything."

Beth Grant

Creator of the Archetype Alignment Grid™

"The Joy|Money Matrix™ program has been life-changing for me. Working through this program led me to clarity like none other about my life; both personal and professional!"

Nukhet Hendricks

Women's Leadership Expert

"The Joy|Money Matrix showed me what a huge amount of content I've produced but that I'm not actually promoting. I'm now committed to promoting my content more and enjoying everything that goes along with it- more sales, more visibility and knowing that my work is helping more people. I adore Lauren and often refer to her as the genius and here she is again creating something remarkable."

Jennifer Urezzio

Creator of Soul Language
The Method
The JMM tracks every single thing you do in your life according to joy and revenue. Then you get to decide what to focus on and what to shift away from. The analysis and next steps move you towards a joyful life supported by your business and not the other way around. 
The Tools
No matter which option you choose, you'll receive the tools to complete your own JMM at home. I'm passionate about offering a high touch experience so your box comes with color printed pdfs, a JMM poster, all the sticky notes and a whole bunch of surprises to support your increased joy and revenue. You can see a list of materials down below- orchid not included! 
A proven approach to more joy and more money. 
Repeatable, Flexible Model
The JMM is not trendy, it flexes with innovations in marketing, social media and technology and for whatever business you might be in. CEOs of huge organizations and solopreneurs have completed it and changed their lives and businesses as a result.
Step-by-step Instruction
No matter which option you choose, you have lifetime access to the on-demand course where I take you through the process and the strategy portions so that you experience the joy-money transformation on your schedule, anywhere in the world.
. 
Tools to Execute
I made the JMM kit to give you every little thing you'll need to enjoy your process without printing hundreds of pdfs or running all over town (or Amazon) to procure your supplies. From the time you open your box, you'll have what you need.
Bring in the Joy. Join us now. 
You did not start your business to waste your life on Facebook. You're here for more. So let the JMM empower you on your most joyful, profitable journey yet. I can't wait to get started with you! 
Frequently Asked Questions
So...what's in the box?
Each box comes with one reusable JMM poster, all the customized sticky notes you need to do the process three times, a JMM permission slip notepad, a nice erasable pen, a beeswax candle, a recyclable binder with all the pdfs, diagrams, transcripts and strategy journaling questions printed on recycled paper. Each box also contains a variety of delightful additions that change depending on my stock. Each box is packed with joy, usually with Broadway music in the background, and prayed over before it wends its way to you. 
What kind of ROI can I expect?
First:In general I price for a 10x ROI. Second: this process absolutely transforms lives and businesses if you follow through with taking action. It is not a training but a lifelong tool to use and reuse, whether you are eligible to attend the virtual retreats or not. Most of the over 75 people who have completed the process since last year attribute huge revenue growth, increased visibility and newfound JOY to the JMM. 
Can't I just do this on my own? Why do I need to pay for an xy axis?
You can! And if that's your jam, by all means do it. Over the years of facilitating this process (and debriefing with licensees), we know that the real magic comes from the analysis of your matrix and then the action you take after you complete it. Anyone can make their own JMM so if that's your style go forth. For those who want the depth, I've created a trademarked process that encompasses every facet of your business and personal life, your teams, your tasks, your marketing, your products, and then analyzes them for both joy and revenue. I know where to look for resistance and where to prioritize joy over money and vice versa. Anyone can make an xy axis- here what matters is what you do with it.
Ok, do I really need the box?
Lol.  I strive for a high touch customer experience and have personally paid thousands of dollars for programs and still had to print out 400 pages of pdfs. I swore I'd never do that to my own customers- hence the box!  I also strive for sustainability so I use post consumer waste (recycled!) and tree free products where possible. Please re-use and recycle once you're done with materials. 
When are the facilitated JMM experiences?
Right now you can book in for a JMM on November 6 and 7, 2019 or January 29 and 30, 2020. 
Please see the events page for a listing of other JMM dates (both in person and virtual) hosted by our awesome JMM certified facilitators!

In a screenshot of this video End of Life Doula Elizabeth Munson Erbrecht is moving one of her services from below the joy line to above it! This means that a service she offers her clients that once felt heavy now feels joyful! (Happy dance)
The JMM is ideal for facilitating in groups. We've found that the insights and aha's expand through a shared experience. This group made bold changes after the JMM in 2018 including selling homes, buying new ones, hitting the road, developing new services and hiring team to handle greater responsibilities, freeing up time for more joyful revenue creation (and joyful life creation).
This is certified facilitator M. Shannon Hernandez's JMM. She's used this process to streamline her business and will be taking 8 (or more) trips this year, including volunteering for three weeks in Africa with an organization that her business profit contribute to.
Jasmine Cianflone shifted out of her successful event planning business to dive wholeheartedly into her calling as a spiritual mentor.
Nukhet Hendricks is the director of a non-profit and runs her own leadership coaching business. She says about the JMM:  I now operate in my zone of genius because when I am working on my business, I am energized, not drained; I can do this work for the rest of my life!  Now I know for certain; I was born to do this, like Joan of Arc said.